Highway Jam is a game based loosely on the Traffic Jam Game found elsewhere on this site, and marketed by ThinkFun. Instead of solving individual 6×6 puzzle grids, Highway Jam puts your car at the end of a highway 300 squares long!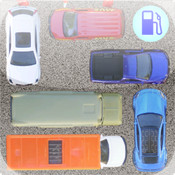 You need to get your car from one end of the highway to the other, shifting other cars out of the way, and being careful not to run out of fuel.
Highway Jam is now available, for iPod Touch, iPhone and iPad, from the App Store. The full version has 7 different highways, from Beginner Boulevard to Horrible Highway. The free version has only three highways, and should be available within a couple of weeks.
Get it now, and happy Highway Jamming!