I was using some software on my iPhone today, when this alert appeared :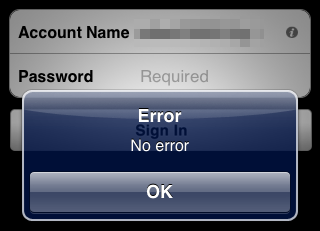 The software is by Apple, it helps me manage the various iPhone games that I've made (search the App Store for "Polytope Media").
I suppose I did something (I'm not sure what) that's meant to produce an error.
That must be it. There was supposed to be an error, but for some reason, the desired error failed to occur. That's clearly wrong, hence the alert.
On the other hand, doesn't that mean there was an error? If there's supposed to be an error, and there is one, doesn't that mean everything's working fine, and the alert pointing out no error occurred should not have been shown?
I thought computers were meant to be logical. Sigh!