There's no way I can go to see the upcoming solar eclipse in the United States – I live too far away. However, I fired up my favourite solar system simulator, called Stellarium, and took some screenshots I'd like to share with you.
Stellarium allows you to see the sky from almost anywhere in the solar system. I set the latitude and longitude to that of Carbondale, Illinois: That's N 37 34′ 4.3″, and W 89 06′ 10.0″. From there, Stellarium shows the moon obscuring the sun, and the stars gradually appearing: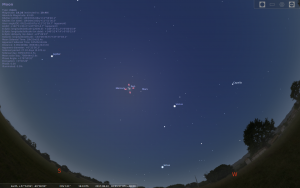 An eclipse of the sun happens when the moon casts a shadow on the earth. To get a good look at the shadow, I set my location to the moon: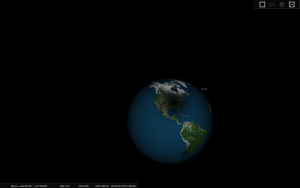 This can help you understand why the eclipse is not visible everywhere. The moon is large, larger than a continent, but smaller than the earth. Its shadow only makes a dark patch on the earth, it can't darken the whole planet.
The earth can darken the whole of the moon, though – that's called a lunar eclipse, and when it occurs, it's visible from anywhere the moon is visible.
Usually the shadow of the moon misses the earth completely. It's easy to understand why if you view the eclipse from Mercury: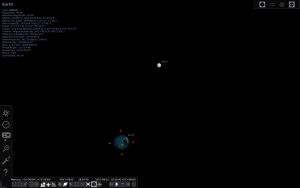 The moon and earth are like two peas at the ends of a foot-long string. It's very rare for us to pass through the moon's shadow. And even here, the moon and earth appear closer than they are – with Mercury so close to the sun, the earth, moon and Mercury are almost aligned.
Finally, here's what the eclipse would look like if you somehow stood on the sun, and blacked out its glare: