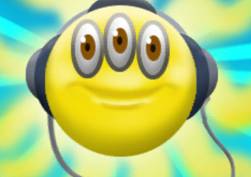 There's a new game out from the inventor of Arithmemouse, called Topple Drop. Like Arithmemouse, Topple Drop is full of beautiful colorful graphics – and not just for the game elements. The background scenery is also full of eye-catching, cheerful but surreal images – how many games have you seen where the sun has three eyes, and a big pair of headphones?
Topple Drop is a series of puzzles. In each puzzle, there are a bunch of blocks and platforms – you can see a typical example at the right. To solve the puzzle, you delete some of the blue blocks or purple platforms. To win, the red block must fall down, but not the green block. Looks impossible? Try it! Later levels have other special types of blocks – ice blocks, helicopter blocks, even blocks attached to balloons.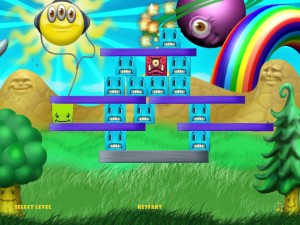 At www.toppledrop.com, you can download a free version with 10 levels. About half of these are tutorial levels. It's very much a "try before you buy" version, to help you decide that it's worth five bucks for the full version. The full version has 40 levels, and the author didn't cheat by shoving the "free" levels in there. For your 5 bucks, you really get 40 new levels. These levels are tougher than the free version, and will keep you (and your kids) occupied for much longer! My son complained that there's no "hint" feature!
One thing I really like about this game is that it's not just a 2-D physics puzzle game, like Angry Birds. It's a 2½-D game. The author has used a full 3-D physics engine, so sometimes the blocks fall off the back of their platforms. None of the puzzles I saw actually depend on this feature, but it's really cool to watch things topple and tumble in a naturally chaotic way. I just wish I could change the camera angle for an action replay!
In terms of fun, I'd rate it 4 stars. The game would be improved with extra sound effects when things blow up, bounce, pop or fall, but there's no faulting it in other respects. The author's plans to add another 40 levels, bringing the total to 80, can only help. I just hope it doesn't distract him from his plans to develop Arithmemouse further!

Topple Drop is no less educational than any similar puzzle game. The logic is not so cut-and-dried as my own Traffic Jam Game, but it's more realistic thanks to the 3-D nature of the toppling blocks. For some levels, you need to figure out and remember quite complicated sequences of block deletions. Because of its memory brain training, and the fact that it develops intuition about levers, friction, gravity and more, I'll give it 4 stars for educational value.
There are versions available for Windows, Mac and even iPad. If you like puzzle games, pop over to the Topple Drop Website and try the free version, or buy the full version outright. It's only $4.95, so it won't break your budget.