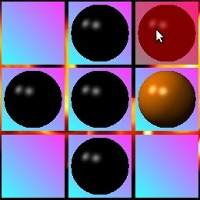 Color Switcher If you read the last newsletter from Dr Mike's Math Games for Kids, you'll recall that it announced an online version of Peg Solitaire. You'll recall that I had actually planned to make a different game, but realised I could hit two birds with one stone, as it were.
Over the Christmas break, I put the finishing touches on the game I originally planned to make – I call it Color Switcher. In this puzzle game, the player is presented with a grid of black beads. By jumping the beads over each other, they can be made to change color. The goal is change the colors of all the beads, so that there are no black ones left.
In fact, I was able hit three birds with one stone, inventing a brand new puzzle game called Primary Colors. Although the game itself is finished, I haven't written up its web page yet. I'll do that soon, and announce it in this newsletter. Stay tuned!