Timez Attack is one of the best educational computer games I've seen. I just found out the other day that there's a new version out – Timez Attack 4! I quickly got my copy, so I could write this review.
It's only been months since Timez Attack 3 was released, and there's a whole swag of new features – the difference between versions 3 and 4 is much bigger than the difference between 2 and 3 – it shows that the Brainz behind Timez Attack are really ramping things up (is this the result of a little competition?)
If you are not familiar with Timez Attack, here's a little information – you can get it for free, but you get more features if you pay. The player controls a little green amphibiesque creature who looks like Shrek might after a serious weight-loss program. This mini-Shrek is plunged into a dungeon, and has to solve times tables questions to escape. Even the free version teaches all the times tables, but the paid version has more "scenarios" that add a little variety to the game.
What's New in Timez Attack 4.0
Timez Attack 4.0 adds the following features to the game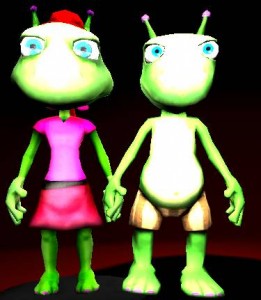 Good news : now, players can choose to be a boy Shrek, or a cute female amphibian with a pink dress and red hair – red hair? Oh no! Is it princess Fiona?!?
Bad news : there are now three price levels – you can still get the free version, and the normal paid version is still $39.95. However, there's also a "Deluxe" version for $59.95.
Good news : If you already bought an earlier version of Timez Attack, you can get the normal (paid) version for free. You can even get the Deluxe version by paying only the price difference of $20. These are the prices for home use, I'm not sure what the prices are for schools.
Even better news : If you want to try the Deluxe version in your school, BigBrainz is looking for schools to take part in a pilot study. If they accept your school, you get the Deluxe version for free (for the duration of the study). Visit the Timez Attack (BigBrainz) website for details. I don't know when their pilot study starts or ends.
Other news : After each level, players can boast of their accomplishments via email, blogger, twitter or facebook. My goodness!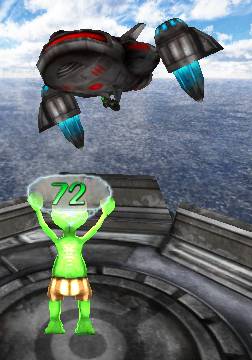 Timez Attack 4.0 has a new opening scene showing poor Shrek (or Fiona) being lowered into the "Dungeon of Ignoruntz". Then (this is new) the character solves or passes on a few times tables problems in a "pre-test" to determine the player's times tables skill level.
The Deluxe version of Timez Attack 4.0 adds a new "scene", the "Rock Tower". This looks like a cross between the planet Coruscant in "Star Wars" and some ancient Mayan ruins. The "Jungle" scene has been taken out of the normal paid version, and is now only available in the Deluxe version. However, both the normal paid version and the Deluxe version have a scene called "Retention".
Here, Shrek/Fiona descend into what looks like the lobby of a luxury villa/industrial complex in the middle of a stunningly beautiful mountain lake. They then have lots of fun exploding metal crates – and in the process,  correctly answering every times table fact they've studied so far. The player descends into the retention level four times in the course of the game, each time solving more and more times tables questions.
With the pre-test, the retention levels – and there's also a post-test at the very end – the makers of Timez Attack have added a whole new educational element, not just improved the gameplay by adding more "scenes". Even the free version is improved – they have something called "base retention" (I suspect this is "retention" but in the dungeon.)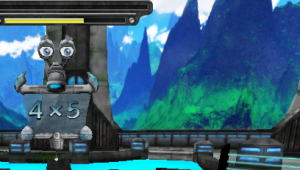 My recommendations :
If your budget is tight and you aren't sure if Timez Attack will help, hop over to BigBrainz.com and download the free version.
If you've already paid for Timez Attack 2.0 or 3.0, upgrade for free! (You'll need your old order number.) Note that if your kid luuuuurvs the "jungle" scene, you'll need to fork out twenty bucks for the Deluxe version.
Note that the more you spend, the better Timez Attack will hold your kids' attention.
For more detailed recommendations from me, read my blog post about version 3.0, my original review of Timez Attack, or my review comparing Timez Attack with Arithmemouse.