By Michael Hartley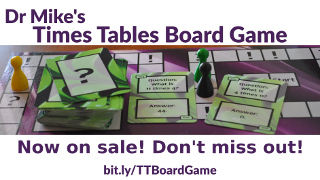 My
Times Tables Board Game
is
now on sale!
Get your kids playing times tables games by
ordering your copy now!
If you were born on Mars, how old would you be today? Or how many times has Jupiter gone around the sun since you were born? What's your age in Venusian years? This page can tell you! Enter your and your friends' birthdays using the form below. The information will only be stored on this computer, not on the server, so don't worry! (PS - I also have some printable space birthday worksheets you can download if you want to do these calculations yourself.)
Your/your friend's name:
Your/your friend's birthday:
You need to enter the year correctly - your Jupiter birthday doesn't fall on the same day each year, in fact most years you don't even have one!
Celebrity Birthdays

If you like what you've just read, sign up for this site's free newsletters: