By Michael Hartley
Dr Mike's Times Tables Board Game is a fun, educational board game for helping kids learn to love times tables. It's a professionally printed version of the make-it-yourself times tables board game elsewhere on this site. You can make download and print the free version's game board, but if you want to save yourself a lot of cutting and pasting, and you want a beautiful professional finish, you'll want to Drop by The Game Grafter and order yourself a copy - and one for your friends, of course!

The game comes with a game board, printed on two sides, 91 question cards sorted into easy and difficult times tables questions, 32 "special" cards that mix up the game in crazy ways, playing pieces and a six-sided die. The 8 page manual comes with instructions for two other games you can play with the same equipment, so you're really getting three fun, educational games for the price of one.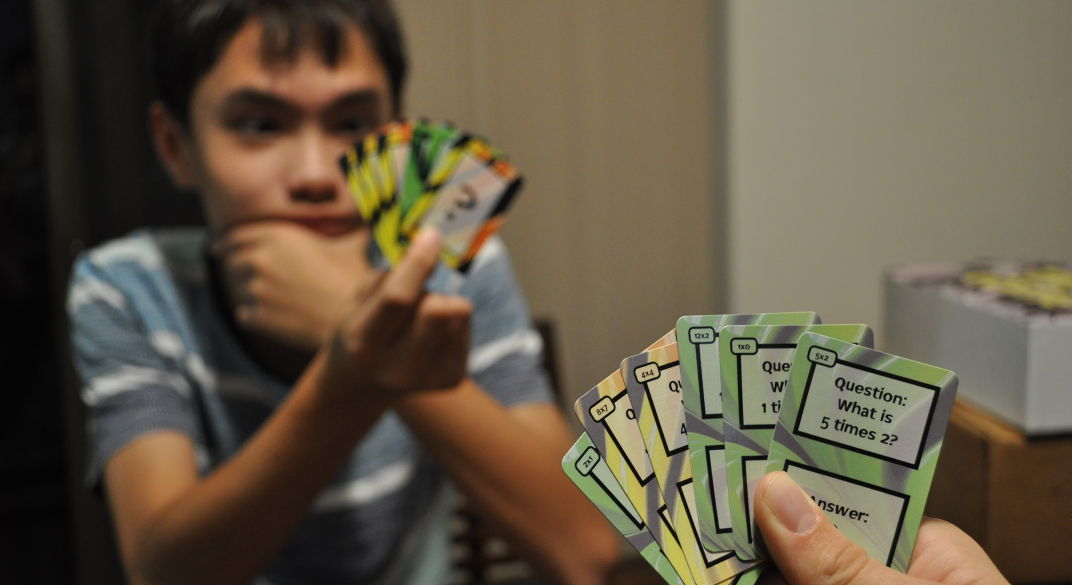 I've had in mind to create Dr Mike's Times Table Game for a very long time, it finally came to life via a Kickstarter campaign launched in early 2020, that skyrocketed way past its funding goal, thanks to an awesome group of people. A special shout-out to Annette Bryant, Cari Jansen, Carl Jensen, Cherie Whelan, Grrrunt, Jim Davies, Joe Average, K Family Ohio, Kimberley and Amber Poyner, Lynne Menechella, Margarita Norvill, Marita Schroeder, Matthew 'Senjak' Goldman, Simon, Lisa and Lucia Shaw, Stuart Midgley, Ted Lilley, The Austin Family, The Chittenden Family, The Marshall Math Geeks, Will Rubenstein, and a special hats off to the super people who chose to support the game anonymously for no reward.

Check out the "unboxing" video below, and then pop over to The online shop and TheGameCrafter to reserve your family or classroom a copy or two!
It's so exciting to make this game available to you, to help make times tables fun for kids! I'd love to hear how this game helps the kids you care about when they play your copy of the game!
Loving our times tables game Dr Mike, the design looks great and the special cards are really fun! ~ Cherie

If you like what you've just read, sign up for this site's free newsletters: