By Michael Hartley
This isn't a math game, but it's totally awesome. I just have to post it here.
The museum near my home recently hosted an exhibition called Dinosaur Discovery. Along with animatronic dinosaurs and information displays, they had a smartphone app.
So, you'd be wandering through the museum, and notice that on each information plaque (and on your entrance ticket), there'd be a funny qr code thingy, looking a bit like this: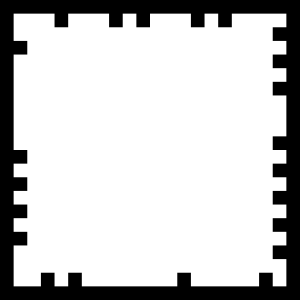 Seeing the code, you'd launch the app and look at the code through your phone. Like magic, a little dinosaur would pop out of the code! So I thought - why just have a little dinosaur? And why just at the museum?
I studied the frame codes, figured out the pattern, and made a bunch of printable downloads. I even made a huge big printable code in pieces you can tape together. Then your kids can have a dinosaur as big as a car in your living room!
First, you'll need the dinosaur discover app. Hopefully the museum will keep the app available forever:
Then, download the printable codes for each of the dinosaurs:
I thought the museum also had downloadable dinosaur codes on their website, but I couldn't find them. Perhaps you can?
If you're trying to make the huge dinosaur qr-code, you have to tape it carefully - make sure it's square, and don't put any sticky tape on the black parts - the codes are quite sensitive to these things.
Rumour has it that the Dinosaur Discovery exhibition will soon be touring the world, starting August 2014. If it comes to a city near you, make 100% sure to take the time to go, with the app on your smartphone. Warning - kids under five might be a bit freaked out!

If you like what you've just read, sign up for this site's free newsletters: