By Michael Hartley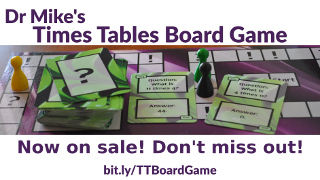 My
Times Tables Board Game
is
now on sale!
Get your kids playing times tables games by
ordering your copy now!
Welcome to Dr Mike's Monthly MathGolf tournament! Are you ready to play?
Every month there's a new nine-hole course, and anyone is welcome to play. Playing MathGolf is easy. You just bring two clubs, a wood and an iron. Then, you practice, until you can play a perfect stroke with each of these two clubs. Then, you enter the tournament! (Psst.. parents and teachers, click here!)

For example, you might practice until you can hit 300 yards with your wood, and 200 yards with the iron. If this month's course had three holes, of 100 yards, 200 yards and 400 yards, your score would be 5.
On the first hole, you'd go 300 yards past the hole with the wood, then 200 yards back with the iron, for 2 strokes.
On the second hole, you'd swing your iron, for a 200-yard hole-in-one!
And on the third hole, you'd use the iron club twice, scoring another 2 strokes.
Don't worry
about the tournament itself,
your caddy will advise you
what clubs to use on each hole. You just have to decide how far each club will drive the ball!
The nine holes for October, 2020 are
Hole 1 : 208 yards
Hole 2 : 408 yards
Hole 3 : 296 yards
Hole 4 : 328 yards
Hole 5 : 344 yards
Hole 6 : 416 yards
Hole 7 : 264 yards
Hole 8 : 400 yards
Hole 9 : 208 yards
By the way, this month's competition closes in about 1 day, 22 hours, 20 minutes and 56 seconds,
Current Champion : BOTMAN296!
On 6th October, 2020, BOTMAN296 from Programming Tech, United States completed the course in only 39 strokes!
Play!

Former Champions :
On 1st September, 2020, BOTMAN296, from Programming Tech, United States, scored 46, with strokes 25 and 120 (the course had holes of length 330, 270, 315, 240, 240, 265, 235, 455 and 190)
On 1st August, 2020, BOTMAN296, from Programming Tech, United States, scored 52, with strokes 65 and 70 (the course had holes of length 325, 195, 325, 330, 335, 245, 255, 320 and 285)
On 7th July, 2020, BOTMAN296, from Programming Tech, United States, scored 43, with strokes 63 and 119 (the course had holes of length 343, 301, 357, 406, 378, 294, 119, 308 and 427)
On 22nd June, 2020, ChonkyJ, from Payne Road State School, Australia, scored 341, with strokes 3 and 184 (the course had holes of length 175, 329, 224, 357, 259, 210, 329, 182 and 287)
On 4th April, 2020, BOTMAN296, from Programming Tech, United States, scored 48, with strokes 45 and 100 (the course had holes of length 225, 235, 190, 245, 265, 335, 365, 425 and 270)
On 4th March, 2020, BOTMAN296, from Programming Tech, United States, scored 54, with strokes 60 and 64 (the course had holes of length 184, 180, 460, 376, 352, 320, 316, 312 and 248)
On 6th February, 2020, SmartS.101, from No School, United States, scored 61, with strokes 111 and 24 (the course had holes of length 294, 453, 222, 339, 333, 279, 261, 414 and 420)
On 4th January, 2020, SmartS.101, from No School, United States, scored 37, with strokes 98 and 77 (the course had holes of length 427, 287, 392, 392, 329, 196, 252, 294 and 238)
On 27th December, 2019, SmartS.101, from No School, United States, scored 35, with strokes 110 and 50 (the course had holes of length 330, 240, 320, 430, 220, 270, 270, 330 and 200)
On 27th November, 2019, BOTMAN296, from Programming Tech, United States, scored 83, with strokes 21 and 35 (the course had holes of length 294, 294, 357, 245, 322, 301, 448, 126 and 238)
On 18th October, 2019, SmartS.101, from No School, United States, scored 48, with strokes 70 and 65 (the course had holes of length 205, 200, 360, 180, 405, 345, 325, 395 and 135)
On 11th September, 2019, Lena, from Thomas jefferson, United States, scored 38, with strokes 70 and 110 (the course had holes of length 460, 420, 240, 260, 250, 170, 330, 180 and 330)
On 7th August, 2019, SmartS.101, from No School, United States, scored 40, with strokes 110 and 70 (the course had holes of length 220, 370, 320, 260, 350, 400, 250, 300 and 230)
On 24th July, 2019, SmartS.101, from No School, United States, scored 63, with strokes 75 and 33 (the course had holes of length 282, 408, 330, 339, 339, 174, 273, 231 and 267)
On 15th May, 2019, SmartS.101, from No School, United States, scored 64, with strokes 46 and 38 (the course had holes of length 144, 152, 290, 184, 254, 214, 200, 328 and 254)
On 10th April, 2019, SmartS.101, from No School, United States, scored 39, with strokes 296 and 16 (the course had holes of length 176, 264, 392, 312, 296, 328, 312, 232 and 232)
On 2nd March, 2019, Mrs Ds 6th Graders, from Harrison K-8 School, United States, scored 60, with strokes 90 and 78 (the course had holes of length 210, 312, 324, 198, 384, 192, 264, 384 and 336)
On 9th February, 2019, Mrs Ds 6th Graders, from Harrison K-8 School, United States, scored 55, with strokes 80 and 45 (the course had holes of length 285, 355, 275, 435, 330, 215, 355, 290 and 340)
On 19th January, 2019, Raymond, from SPCC, Hong Kong, scored 72, with strokes 100 and 12 (the course had holes of length 296, 236, 312, 212, 364, 252, 168, 328 and 320)
On 3rd December, 2018, SmartS.101, from No School, United States, scored 63, with strokes 93 and 6 (the course had holes of length 168, 390, 291, 390, 348, 297, 273, 267 and 357)
On 23rd November, 2018, luke, from lmg, Sweden, scored 34, with strokes 12 and 180 (the course had holes of length 408, 384, 204, 192, 156, 180, 408, 252 and 360)
On 2nd October, 2018, SmartS.101, from No School, United States, scored 46, with strokes 90 and 84 (the course had holes of length 276, 336, 282, 360, 378, 252, 348, 348 and 444)
On 11th September, 2018, SmartS.101, from No School, United States, scored 55, with strokes 156 and 4 (the course had holes of length 332, 448, 304, 416, 316, 332, 164, 312 and 324)
On 1st August, 2018, SmartS.101, from No School, United States, scored 54, with strokes 76 and 64 (the course had holes of length 420, 332, 480, 292, 304, 420, 316, 268 and 156)
On 3rd July, 2018, SmartS.101, from No School, United States, scored 48, with strokes 232 and 8 (the course had holes of length 264, 312, 432, 248, 200, 144, 232, 232 and 448)
On 2nd June, 2018, SmartS.101, from No School, United States, scored 47, with strokes 102 and 48 (the course had holes of length 252, 300, 342, 240, 396, 258, 300, 318 and 288)
On 7th May, 2018, SmartS.101, from No School, United States, scored 44, with strokes 104 and 32 (the course had holes of length 376, 280, 352, 200, 360, 416, 312, 352 and 240)
On 2nd April, 2018, SmartS.101, from No School, United States, scored 34, with strokes 230 and 30 (the course had holes of length 150, 290, 170, 200, 320, 230, 260, 240 and 180)
On 29th March, 2018, SmartS.101, from No School, United States, scored 42, with strokes 112 and 72 (the course had holes of length 448, 152, 264, 336, 464, 440, 328, 432 and 328)
On 1st February, 2018, SmartS.101, from No School, United States, scored 72, with strokes 62 and 28 (the course had holes of length 282, 378, 366, 336, 190, 376, 208, 292 and 214)
On 2nd January, 2018, SmartS.101, from No School, United States, scored 39, with strokes 126 and 45 (the course had holes of length 252, 306, 225, 378, 468, 126, 315, 396 and 342)
On 6th December, 2017, SmartS.101, from No School, United States, scored 38, with strokes 120 and 56 (the course had holes of length 304, 344, 240, 168, 344, 392, 240, 416 and 464)
On 1st November, 2017, SmartS.101, from No School, United States, scored 49, with strokes 85 and 70 (the course had holes of length 140, 240, 435, 420, 185, 440, 375, 265 and 240)
On 2nd October, 2017, SmartS.101, from No School, United States, scored 64, with strokes 84 and 81 (the course had holes of length 423, 234, 414, 327, 408, 414, 339, 309 and 399)
On 1st September, 2017, SmartS.101, from No School, United States, scored 35, with strokes 80 and 70 (the course had holes of length 300, 360, 250, 280, 320, 240, 210, 220 and 320)
On 1st August, 2017, SmartS.101, from No School, United States, scored 36, with strokes 110 and 70 (the course had holes of length 180, 350, 330, 410, 370, 290, 390, 320 and 220)
On 1st July, 2017, SmartS.101, from No School, United States, scored 42, with strokes 144 and 8 (the course had holes of length 328, 376, 144, 280, 184, 432, 272, 296 and 264)
On 1st June, 2017, SmartS.101, from No School, United States, scored 40, with strokes 81 and 72 (the course had holes of length 396, 405, 315, 306, 351, 252, 225, 315 and 234)
On 1st May, 2017, SmartS.101, from No School, United States, scored 47, with strokes 95 and 40 (the course had holes of length 255, 255, 365, 295, 460, 110, 240, 460 and 380)
On 19th April, 2017, SmartS.101, from No School, United States, scored 41, with strokes 200 and 32 (the course had holes of length 432, 208, 240, 264, 392, 360, 368, 200 and 368)
On 1st March, 2017, SmartS.101, from No School, United States, scored 37, with strokes 98 and 91 (the course had holes of length 378, 280, 364, 301, 301, 273, 406, 196 and 294)
On 3rd February, 2017, SmartS.101, from No School, United States, scored 31, with strokes 153 and 18 (the course had holes of length 324, 171, 459, 171, 324, 324, 324, 270 and 279)
On 12th January, 2017, A. Moron, from Erewhon I.H.C, No Country, scored 42, with strokes 70 and 63 (the course had holes of length 343, 189, 259, 301, 210, 455, 196, 329 and 203)
On 3rd December, 2016, SmartS.101, from No School, United States, scored 45, with strokes 147 and 7 (the course had holes of length 175, 133, 427, 273, 308, 182, 441, 189 and 259)
On 30th November, 2016, SmartS.101, from No School, United States, scored 40, with strokes 126 and 48 (the course had holes of length 378, 204, 222, 414, 300, 270, 480, 426 and 378)
On 22nd October, 2016, A. Moron, from Erewhon I.H.C, No Country, scored 52, with strokes 30 and 114 (the course had holes of length 432, 330, 324, 288, 264, 318, 228, 318 and 486)
On 1st September, 2016, SmartS.101, from No School, United States, scored 42, with strokes 77 and 7 (the course had holes of length 378, 217, 301, 231, 294, 161, 308, 140 and 322)
On 11th August, 2016, SmartS.101, from No School, United States, scored 59, with strokes 85 and 10 (the course had holes of length 330, 180, 435, 445, 480, 395, 200, 285 and 470)
On 1st July, 2016, SmartS.101, from No School, United States, scored 59, with strokes 66 and 6 (the course had holes of length 120, 366, 402, 192, 474, 456, 258, 324 and 330)
On 1st June, 2016, SmartS.101, from No School, United States, scored 36, with strokes 8 and 128 (the course had holes of length 384, 336, 112, 264, 256, 336, 256, 256 and 384)
On 1st May, 2016, SmartS.101, from No School, United States, scored 53, with strokes 6 and 132 (the course had holes of length 402, 372, 312, 252, 270, 402, 390, 432 and 174)
On 26th April, 2016, SmartS.101, from No School, United States, scored 59, with strokes 80 and 5 (the course had holes of length 410, 480, 245, 155, 310, 255, 285, 380 and 260)
On 1st March, 2016, SmartS.101, from No School, United States, scored 53, with strokes 6 and 108 (the course had holes of length 330, 300, 336, 438, 288, 216, 348, 318 and 264)
On 1st February, 2016, SmartS.101, from No School, United States, scored 47, with strokes 8 and 136 (the course had holes of length 352, 288, 224, 120, 272, 296, 328, 168 and 136)
On 11th January, 2016, SmartS.101, from No School, United States, scored 51, with strokes 6 and 132 (the course had holes of length 288, 348, 234, 264, 144, 282, 324, 258 and 264)
On 3rd December, 2015, SmartS.101, from No School, United States, scored 74, with strokes 4 and 120 (the course had holes of length 112, 392, 116, 356, 280, 264, 348, 312 and 196)
On 7th November, 2015, SmartS.101, from No School, United States, scored 55, with strokes 6 and 90 (the course had holes of length 450, 432, 450, 180, 348, 342, 342, 294 and 216)
On 1st October, 2015, SmartS.101, from No School, United States, scored 62, with strokes 15 and 160 (the course had holes of length 440, 465, 250, 395, 335, 450, 295, 275 and 310)
On 22nd September, 2015, SmartS.101, from No School, United States, scored 70, with strokes 125 and 10 (the course had holes of length 285, 320, 255, 335, 220, 345, 260, 425 and 405)
On 7th August, 2015, Anonymous, from No School, No Country, scored 44, with strokes 40 and 110 (the course had holes of length 160, 320, 220, 250, 270, 240, 270, 350 and 260)
On 15th June, 2015, Anonymous, from No School, No Country, scored 65, with strokes 162 and 279 (the course had holes of length 162, 225, 297, 207, 279, 279, 324, 333 and 378)
On 19th May, 2015, Chaz and JZ, from The gifted and advanced school of mathmatics, United States, scored 56, with strokes 32 and 216 (the course had holes of length 216, 280, 264, 368, 240, 312, 240, 192 and 224)
On 15th April, 2015, Anonymous, from No School, No Country, scored 46, with strokes 310 and 40 (the course had holes of length 390, 270, 390, 160, 260, 310, 420, 360 and 460)
On 24th March, 2015, Jorge Pasada, from The gifted and advanced school of mathmatics (JZ y Olaf y Zach)), United States, scored 71, with strokes 33 and 51 (the course had holes of length 405, 135, 249, 444, 321, 189, 270, 459 and 393)
On 21st February, 2015, Steven, from PAMS, United States, scored 80, with strokes 3 and 51 (the course had holes of length 432, 189, 405, 252, 207, 342, 360, 306 and 405)
On 28th January, 2015, Alan, from ASD, Qatar, scored 153, with strokes 25 and 13 (the course had holes of length 273, 329, 357, 301, 238, 441, 413, 406 and 315)
On 2nd December, 2014, Par, from Rousseau, United States, scored 146, with strokes 8 and 400 (the course had holes of length 408, 192, 192, 360, 248, 328, 216, 312 and 192)
On 21st November, 2014, FunNFriendly, from QVMS, United States, scored 80, with strokes 20 and 104 (the course had holes of length 280, 204, 244, 336, 192, 376, 276, 256 and 376)
On 20th October, 2014, Muahahaha, from St Cronins Swords, Ireland, Ireland, scored 50, with strokes 150 and 6 (the course had holes of length 324, 450, 276, 306, 336, 168, 450, 276 and 402)
On 24th September, 2014, test, from test, United States, scored 91, with strokes 210 and 72 (the course had holes of length 342, 270, 216, 270, 306, 252, 360, 306 and 270)
On 8th August, 2014, jellyfish65, from franklin academy, United States, scored 1462, with strokes 2 and 1 (the course had holes of length 304, 308, 412, 124, 368, 348, 412, 260 and 388)
On 9th July, 2014, Sandra, from York, Canada, scored 187, with strokes 27 and 31 (the course had holes of length 406, 385, 161, 203, 189, 273, 441, 385 and 350)
On 21st June, 2014, N O Body, from Ghostville High, No Country, scored 703, with strokes 4 and 1 (the course had holes of length 370, 260, 458, 354, 256, 306, 198, 252 and 322)
On 3rd May, 2014, Desiree Kessler, from FHS, Florence CO, United States, scored 49, with strokes 133 and 28 (the course had holes of length 371, 378, 294, 371, 301, 196, 224, 287 and 399)
On 12th April, 2014, SD, from FHS, Florence CO, United States, scored 53, with strokes 102 and 6 (the course had holes of length 348, 168, 246, 210, 192, 402, 318, 414 and 408)
On 5th March, 2014, Jackson, from Lincoln, United States, scored 43, with strokes 48 and 66 (the course had holes of length 144, 324, 258, 210, 246, 276, 306, 174 and 150)
On 8th February, 2014, riley, from fhs florence co, United States, scored 24, with strokes 176 and 11 (the course had holes of length 352, 319, 341, 330, 352, 352, 352, 198 and 176)
On 5th January, 2014, Sydney, from CCHS, Canon CIty, CO, United States, scored 44, with strokes 114 and 36 (the course had holes of length 306, 378, 228, 300, 228, 366, 474, 372 and 192)
On 24th December, 2013, A Moron, from Erewhon I.H.C., New Zealand, scored 119, with strokes 24 and 18 (the course had holes of length 378, 396, 312, 330, 246, 330, 192, 222 and 366)
On 4th November, 2013, Anonymous, from No School, No Country, scored 58, with strokes 80 and 45 (the course had holes of length 435, 385, 305, 395, 375, 365, 455, 265 and 215)
On 5th October, 2013, Anonymous, from No School, Canada, scored 32, with strokes 156 and 48 (the course had holes of length 312, 156, 252, 204, 288, 348, 300, 264 and 288)
On 7th September, 2013, ILY, from CCHS, Canon City, CO, United States, scored 34, with strokes 160 and 50 (the course had holes of length 220, 350, 310, 370, 310, 260, 410, 320 and 160)
On 28th August, 2013, A Moron, from Erewhon I.H.C., New Zealand, scored 46, with strokes 90 and 27 (the course had holes of length 270, 351, 171, 450, 306, 270, 423, 288 and 396)
On 5th July, 2013, Anonymous, from No School, No Country, scored 1279, with strokes 2 and 1 (the course had holes of length 306, 330, 357, 369, 291, 384, 216, 189 and 111)
On 13th June, 2013, Leon Sandcastle, from No School, United States, scored 63, with strokes 69 and 33 (the course had holes of length 177, 336, 270, 207, 246, 150, 408, 204 and 345)
On 10th May, 2013, SD, from FHS--Florence, CO, United States, scored 45, with strokes 216 and 9 (the course had holes of length 450, 252, 243, 189, 315, 441, 198, 378 and 432)
On 15th April, 2013, Cam Neale, from Elisabeth murdoch college, Australia, scored 40, with strokes 90 and 80 (the course had holes of length 250, 340, 260, 260, 410, 440, 340, 280 and 210)
On 19th March, 2013, SD, from FHS, United States, scored 52, with strokes 108 and 42 (the course had holes of length 294, 288, 318, 378, 384, 258, 216, 216 and 450)
On 19th February, 2013, Sydney Ily Danielson, from CCHS, United States, scored 39, with strokes 189 and 36 (the course had holes of length 333, 315, 189, 225, 180, 387, 189, 297 and 342)
On 7th January, 2013, Sydney Danielson, from Canon City High School, United States, scored 32, with strokes 144 and 12 (the course had holes of length 156, 276, 168, 324, 288, 144, 456, 384 and 180)
On 18th December, 2012, 40, from 105, Canada, scored 49, with strokes 105 and 40 (the course had holes of length 275, 210, 200, 395, 305, 220, 355, 280 and 475)
On 13th November, 2012, Steven and Joe, from Lingle, United States, scored 36, with strokes 20 and 130 (the course had holes of length 170, 280, 260, 200, 240, 300, 140, 340 and 240)
On 19th October, 2012, Emma, from Hellen Caro, United States, scored 70, with strokes 44 and 54 (the course had holes of length 342, 260, 274, 332, 460, 250, 328, 338 and 352)
On 6th September, 2012, Anonymous, from No School, No Country, scored 1592, with strokes 2 and 1 (the course had holes of length 285, 324, 348, 297, 354, 474, 297, 474 and 327)
On 19th August, 2012, Anonymous, from No School, No Country, scored 110, with strokes 8 and 34 (the course had holes of length 384, 300, 492, 356, 328, 212, 328, 144 and 340)
On 4th July, 2012, Bob, from Pfcs, Australia, scored 662, with strokes 227 and 100 (the course had holes of length 427, 252, 217, 210, 175, 182, 294, 168 and 294)
On 7th June, 2012, imwaytooldforthisgame, from highschoodropout, Canada, scored 50, with strokes 66 and 60 (the course had holes of length 258, 300, 408, 330, 360, 252, 360, 300 and 312)
On 2nd May, 2012, Mr. Mr, from No School, Canada, scored 44, with strokes 154 and 7 (the course had holes of length 147, 280, 161, 245, 462, 322, 175, 462 and 357)
On 19th April, 2012, Patrick Nowland, from SLC, Australia, scored 50, with strokes 9 and 225 (the course had holes of length 423, 468, 225, 351, 225, 288, 279, 297 and 216)
On 14th March, 2012, A^2, from C^2, Canada, scored 35, with strokes 121 and 44 (the course had holes of length 242, 374, 242, 363, 396, 330, 264, 440 and 165)
On 11th February, 2012, 77, from 132, Canada, scored 28, with strokes 132 and 77 (the course had holes of length 286, 319, 231, 341, 132, 176, 286, 363 and 209)
On 9th January, 2012, Mr B, from No School, Canada, scored 47, with strokes 102 and 12 (the course had holes of length 270, 270, 252, 354, 204, 318, 294, 258 and 330)
On 8th December, 2011, Brandon, from No School, Canada, scored 28, with strokes 143 and 44 (the course had holes of length 231, 231, 143, 176, 341, 286, 187, 286 and 484)
On 6th November, 2011, Kaden the tank, from Eastview, United States, scored 62, with strokes 35 and 75 (the course had holes of length 295, 260, 440, 370, 435, 135, 420, 250 and 245)
On 27th October, 2011, Brandon, from Leduc, Canada, scored 53, with strokes 87 and 51 (the course had holes of length 405, 342, 240, 255, 282, 423, 138, 189 and 261)
On 7th September, 2011, Mr H, from RCHS, No Country, scored 61, with strokes 162 and 6 (the course had holes of length 330, 162, 282, 396, 306, 324, 360, 456 and 378)
On 12th August, 2011, kiran, from a.p.p.m model high school, India, scored 61, with strokes 200 and 8 (the course had holes of length 304, 336, 328, 224, 376, 256, 184, 384 and 400)
On 6th July, 2011, Brandon, from Leduc, Canada, scored 40, with strokes 119 and 14 (the course had holes of length 189, 238, 210, 371, 343, 189, 301, 343 and 357)
On 2nd June, 2011, KBeezy, from DVHS, United States, scored 53, with strokes 95 and 130 (the course had holes of length 475, 390, 330, 440, 320, 245, 250, 475 and 200)
On 13th May, 2011, KBeezy, from DVHS, United States, scored 49, with strokes 175 and 28 (the course had holes of length 350, 112, 322, 301, 322, 294, 420, 287 and 322)
On 4th April, 2011, Mr. Nelson, from Safety Glasses Academy, Zaire, scored 60, with strokes 69 and 33 (the course had holes of length 366, 300, 135, 171, 195, 348, 306, 234 and 177)
On 3rd March, 2011, Brandon & Megan, from Christ the King, Canada, scored 46, with strokes 110 and 65 (the course had holes of length 305, 330, 215, 330, 370, 375, 290, 215 and 370)
On 4th February, 2011, scott, from rchs, United States, scored 46, with strokes 147 and 14 (the course had holes of length 364, 119, 385, 441, 224, 231, 413, 294 and 469)
On 5th January, 2011, D, from Albion, United States, scored 45, with strokes 152 and 72 (the course had holes of length 304, 392, 240, 288, 328, 288, 376, 456 and 312)
On 1st December, 2010, Anonymous, from No School, No Country, scored 61, with strokes 140 and 21 (the course had holes of length 315, 378, 294, 322, 343, 427, 448, 224 and 245)
On 4th November, 2010, Emily, from St Josephs, Australia, scored 49, with strokes 55 and 85 (the course had holes of length 365, 410, 360, 140, 200, 175, 250, 255 and 300)
On 3rd October, 2010, Brandon, from Christ the king, Canada, scored 51, with strokes 90 and 55 (the course had holes of length 300, 290, 305, 380, 255, 395, 345, 325 and 310)
On 13th September, 2010, brendan, from holy spirit, Australia, scored 53, with strokes 5 and 150 (the course had holes of length 190, 150, 400, 165, 450, 330, 320, 305 and 435)
On 2nd August, 2010, blaize, from cms, United States, scored 49, with strokes 54 and 60 (the course had holes of length 294, 240, 192, 240, 360, 240, 348, 210 and 384)
On 22nd July, 2010, hannen, from rathern primary, No Country, scored 37, with strokes 110 and 70 (the course had holes of length 260, 320, 330, 440, 360, 390, 330, 310 and 290)
On 2nd June, 2010, jeremy z.+jon kuch, from Eastview elementary, United States, scored 53, with strokes 25 and 155 (the course had holes of length 265, 365, 360, 225, 385, 335, 155, 380 and 285)
On 11th May, 2010, Sydney, from Canon City Middle School, United States, scored 61, with strokes 124 and 4 (the course had holes of length 284, 264, 476, 260, 252, 248, 372, 348 and 292)
On 16th April, 2010, Kristen, from Jefferson Academy, United States, scored 35, with strokes 40 and 150 (the course had holes of length 300, 310, 190, 220, 370, 330, 380, 190 and 200)
On 2nd March, 2010, Kristen, from Jefferson Academy, United States, scored 50, with strokes 20 and 105 (the course had holes of length 270, 335, 150, 380, 285, 315, 400, 395 and 185)
On 2nd February, 2010, vance, from Garden Park High School, United States, scored 43, with strokes 91 and 105 (the course had holes of length 455, 350, 406, 364, 315, 175, 210, 287 and 329)
On 30th January, 2010, 4 amigos, from Northfield Elementary School, United States, scored 39, with strokes 22 and 209 (the course had holes of length 176, 209, 319, 187, 330, 462, 418, 396 and 308)
On 7th December, 2009, 5S ARE THE BEST, from Brighton Primary School, Australia, scored 44, with strokes 91 and 63 (the course had holes of length 357, 329, 245, 245, 273, 252, 315, 343 and 301)
On 23rd November, 2009, Anonymous, from No School, No Country, scored 41, with strokes 77 and 63 (the course had holes of length 126, 168, 294, 357, 182, 301, 322, 217 and 294)
On 27th October, 2009, Brighton 5C, from Brighton PS, Australia, scored 42, with strokes 99 and 45 (the course had holes of length 396, 288, 153, 306, 252, 405, 315, 342 and 297)
On 29th September, 2009, J J and Patrick, from St Georges, Switzerland, scored 58, with strokes 8 and 108 (the course had holes of length 216, 364, 248, 408, 272, 192, 208, 332 and 352)
On 20th August, 2009, birdnerd, from cms, United States, scored 50, with strokes 72 and 32 (the course had holes of length 264, 224, 456, 320, 232, 328, 248, 216 and 240)
On 3rd July, 2009, hashir, from northland, Singapore, scored 48, with strokes 8 and 96 (the course had holes of length 288, 312, 272, 368, 464, 168, 280, 232 and 376)
On 19th June, 2009, Courtney Moore, from St. Georges, Switzerland, scored 41, with strokes 144 and 8 (the course had holes of length 288, 264, 280, 112, 336, 312, 408, 264 and 288)
On 5th May, 2009, Hanoj, from Somis HS, United States, scored 70, with strokes 3 and 66 (the course had holes of length 267, 321, 342, 183, 486, 255, 264, 252 and 327)
On 26th April, 2009, gfq, from ssd, United Kingdom, scored 40, with strokes 99 and 279 (the course had holes of length 342, 279, 252, 297, 360, 378, 261, 198 and 279)
On 4th March, 2009, Dan Fuore, from Lenox High School, No Country, scored 49, with strokes 80 and 45 (the course had holes of length 310, 250, 435, 275, 340, 365, 365, 240 and 385)
On 7th February, 2009, Hanoj, from Somis HS, United States, scored 50, with strokes 40 and 65 (the course had holes of length 310, 325, 285, 235, 350, 135, 260, 275 and 325)
On 1st January, 2009, Paul, from Test, United States, scored 50, with strokes 222 and 24 (the course had holes of length 324, 144, 294, 396, 486, 342, 318, 294 and 246)
On 3rd December, 2008, Blaize a.k.a. BirdNerd, from Century Middle School, United States, scored 52, with strokes 63 and 56 (the course had holes of length 392, 308, 378, 315, 350, 287, 329, 399 and 175)
On 12th November, 2008, kyle-man, from eve, United States, scored 38, with strokes 90 and 40 (the course had holes of length 250, 150, 360, 340, 270, 300, 220, 260 and 180)
On 10th October, 2008, Dik, from Aap, Netherlands, scored 36, with strokes 24 and 180 (the course had holes of length 384, 300, 180, 252, 336, 300, 312, 288 and 408)
On 3rd September, 2008, BirdNerd, from century middle school, United States, scored 40, with strokes 80 and 70 (the course had holes of length 300, 430, 290, 150, 390, 350, 340, 210 and 280)
On 5th August, 2008, BIRDNERD, from EASTVIEW ELEMENTARY, United States, scored 36, with strokes 99 and 88 (the course had holes of length 165, 176, 473, 352, 275, 297, 198, 132 and 407)
On 2nd July, 2008, birdnerd, from eastview elementary, United States, scored 53, with strokes 5 and 95 (the course had holes of length 210, 295, 355, 300, 285, 195, 260, 290 and 225)
On 1st June, 2008, Blaize a.k.a birdnerd, from eastview elementary, No Country, scored 42, with strokes 72 and 64 (the course had holes of length 144, 280, 216, 336, 448, 280, 392, 408 and 344)
On 28th May, 2008, DB, from RU, United Kingdom, scored 41, with strokes 40 and 168 (the course had holes of length 368, 344, 288, 192, 328, 168, 296, 248 and 336)
On 1st April, 2008, blaize, a.k.a. birdnerd, from eastview elementary, United States, scored 45, with strokes 70 and 49 (the course had holes of length 161, 280, 259, 308, 217, 343, 245, 427 and 266)
On 4th March, 2008, Caleb, from eve, El Salvador, scored 53, with strokes 72 and 66 (the course had holes of length 270, 330, 294, 288, 384, 144, 420, 450 and 348)
On 3rd February, 2008, Blaize and Talon, from Eastview Elementary, United States, scored 37, with strokes 32 and 104 (the course had holes of length 240, 248, 128, 352, 272, 304, 312, 240 and 280)
On 21st January, 2008, Blaize, from Eastview Elementary, United States, scored 60, with strokes 36 and 76 (the course had holes of length 368, 184, 292, 252, 444, 148, 212, 268 and 384)
On 7th December, 2007, Anonymous, from No School, No Country, scored 66, with strokes 90 and 6 (the course had holes of length 414, 276, 228, 444, 312, 282, 396, 366 and 354)

If you like what you've just read, sign up for this site's free newsletters: